Professional Copy, Accessible To All
Effective, on-brand copy isn't a should-have, it's a must-have. But the truth is, not every business owner has the time, energy, or budget to invest in a professional copywriter. Now, they don't have to.

Reveal Studio Co.'s resources are created with the same techniques and strategies we use with our 1-on-1 copywriting clients, but at a fraction of the cost. Offering you access to incredible copy—that takes 1/10 the time to write—without booking a copywriter or sacrificing quality.

We think you, and your clients, deserve that.
Sales Copy
Selling something? You've come to the right place. Whether it's a course, workshop, downloadable product, or something else—we've got a template that will help you market and promote your offer to the masses with ease.
SHOP
Love Letters From Real Customers
"Before using Reveal's templates, I had an email list but wasn't nurturing them or properly supporting my launches with my audience email. Writing emails felt too long, and I was wasting time spinning my wheels. These templates have made it easy for me to send out just about anything to my list."
"I am a repeat customer of Kaili's resource shop and HIGHLY recommend her templates! She is a genius with words, and her templates are so easy to use and customize for your business."
"Kaili is an absolute SUPER STAR. I've worked with her twice within the last year, in addition to purchasing her templates, and it's an understatement to say that I am obsessed with everything she has created for me."
"Everything Kaili creates is easy to use, stupidly valuable, and also highly customizable so that my brand still shines through. If you're looking to improve the way your customers experience your brand, build a deeper connection with your audience, and create consistency in communicating with your community, I cannot recommend Reveal Studio's templates enough!"
"I've purchased Reveal's email templates (nurture + evergreen) and have already seen first hand THEY CONVERT LIKE CRAZY! With launching my online courses recently, I knew I didn't have the time to write a full funnel, and with her templates, I could just plug + play, then watch the results roll in. It's so fricken cool, and I am beyond grateful to have her in my corner for business."
Featured Products
Fan favorites & ride-or-dies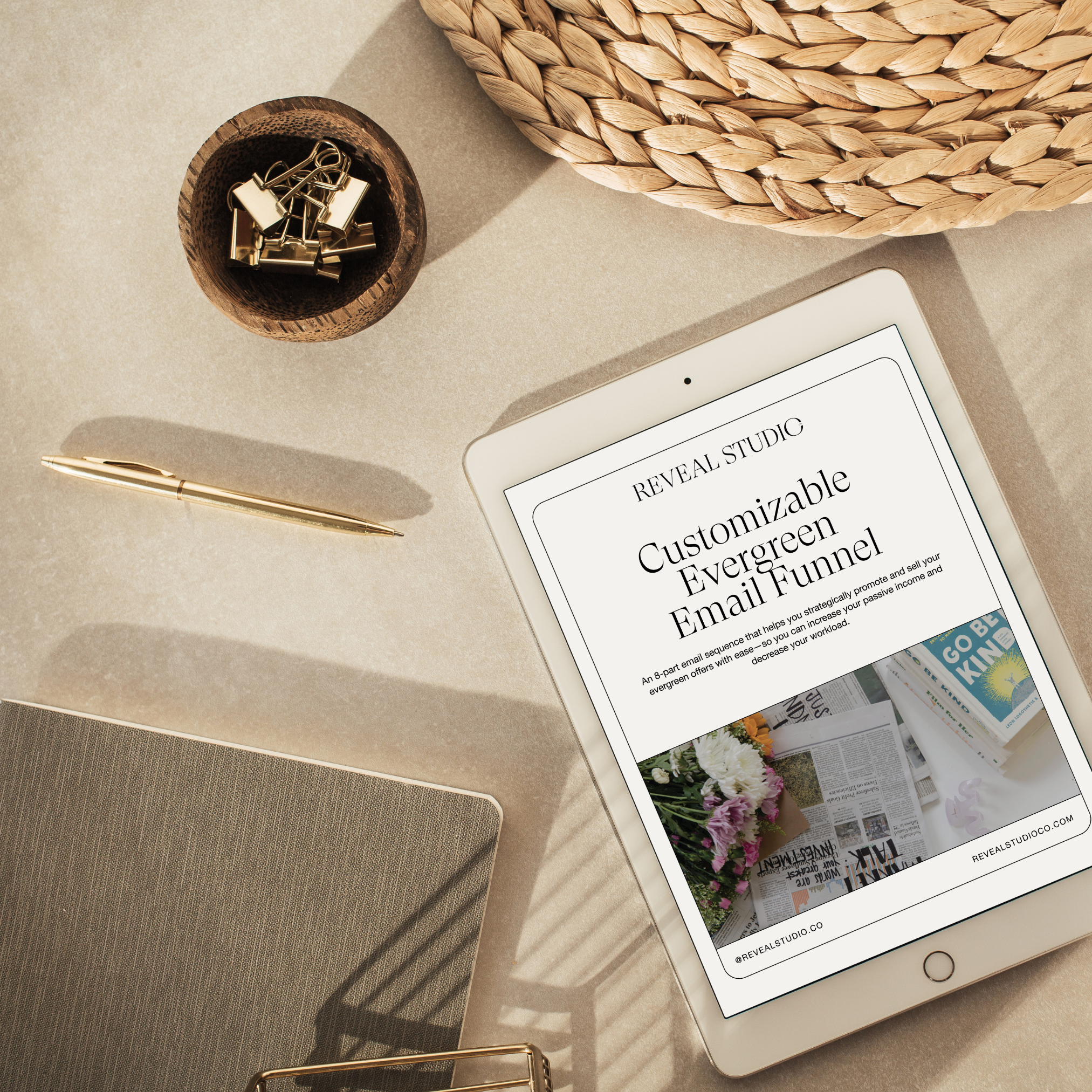 Customizable Evergreen Email Funnel
This resource is for the business owner who wants to put sales of their offers on autopilot and sell their courses,...
ADD TO CART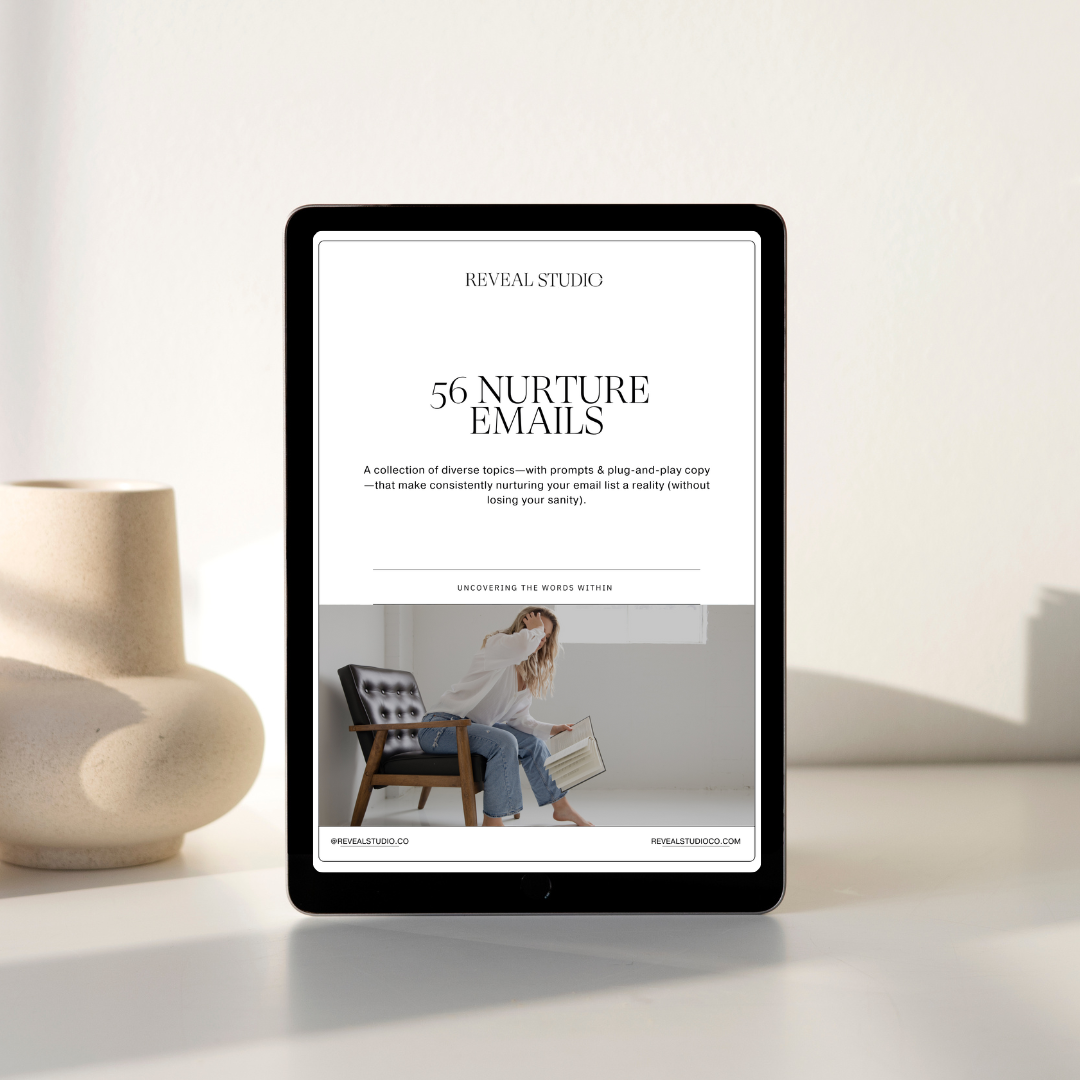 56 Nurture Email & Social Media Prompts
This resource is for the business owner who wants to nurture their email list & social media followers but doesn't...
ADD TO CART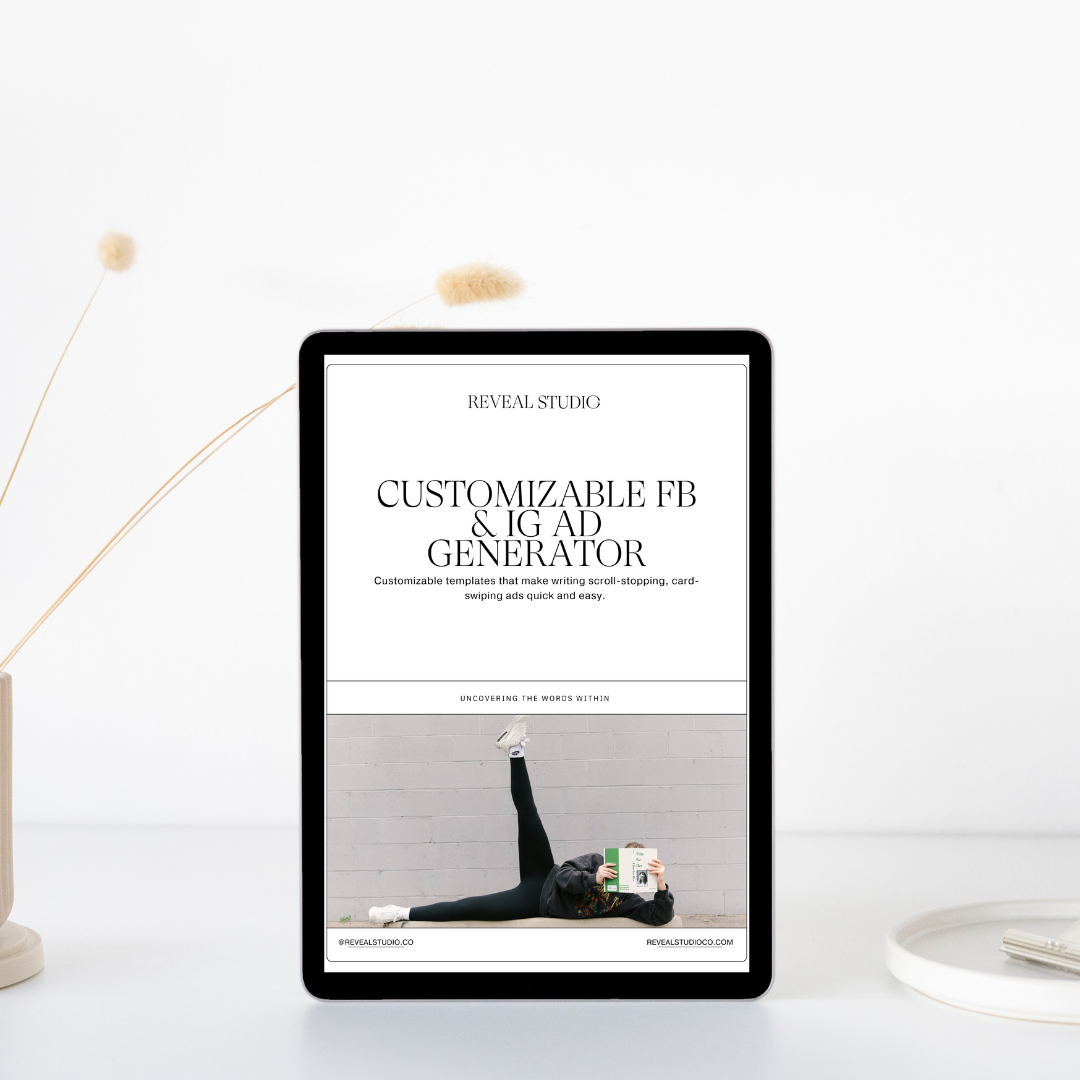 Customizable FB & IG Ad Generator
This resource is for the business owner who wants to write scroll-stopping, card-swiping ads in minutes. What it is: Plug-and-play templates...
ADD TO CART
A Note from the founder
I've loved words and storytelling since I was a child. Putting pen to paper has always been my chosen form of communication—something magical happens when you take voice and body language out of the equation and focus solely on sending a message. But here's what I know to be true: Written communication isn't everyone's forte. But, as business owners, it's critical we learn how to effectively educate, persuade, and sell using words alone. That's why I created this shop—so that you can feel confident and excited about the message you're sending, knowing it's reaching the right people, at the right time, in the right way. I hope you find what you're looking for and fall a little more in love with copy in the process.
xoxo,
Kaili Meyer
Copy Kits
Cover all your bases at once with perfectly-curated bundles of complementary resources and templates that make nurturing, selling, or simply showing up a whole hell of a lot easier. Plus—they come with an automatic discount (we love a financially savvy woman).
SHOP
$1,997.00
$2,289.00
(Save $292.00)
$317.00
$358.00
(Save $41.00)
$417.00
$508.00
(Save $91.00)
$997.00
$1,179.00
(Save $182.00)
Your Words, Only Better
Copywriting doesn't have to be complicated. Reveal's templates and resources were created to help business owners like you find the right words and share them with the world without sacrificing all of your time, energy, or money. Because your message matters—and we want to help you spread it.
Shop All Templates